Musculoskeletal Interest Group formation - 20 September 2019
At the 2019 HFESNZ Conference meeting a Musculoskeletal Interest Group was formed with Marion Edwin as an interim contact person. Contact marion.edwin.me@gmail.com if you are interested in joining this group (you must be a society member). Watch the newsletter for forthcoming events and meetings.
Background
Many of our members have a health or rehabilitation professional background with interest in rehabilitation ergonomics, the physical design of workplaces, office ergonomics, work capacity, work physiology, work/workplace adaptations for individuals with disability, and using anthropometric knowledge to assist with design specifications for work environments and consumer products. For many this exposure to 'physical ergonomics' leads to a deeper understanding of human performance and a commitment to systems thinking.
Historically, musculoskeletal injury prevention efforts were often led by ACC programmes focused on reducing injury claim rates in collaboration with the health and safety regulator. Multiple discrete programmes (e.g. acute back injury, 'OOS') were amalgamated into a single programme for preventing and managing discomfort, pain and injury (DPI). This was evidence-based, with a systems approach to understanding musculoskeletal injury causation. Work organisation, psychosocial, environment and individual factors are considered alongside biomechanical factors such as load weights, awkward postures, and task repetition. A range of resources were created, largely within ACC, but shared with Occupational Safety and Health/Department of Labour.
In recent years there has been a change of focus within ACC musculoskeletal programme delivery, and WorkSafe has targeted reduction of workplace fatalities. Musculoskeletal harm reduction (although this has been confusingly called 'body stressing') is identified in the WorkSafe Harm Reduction Action Plan targeting multiple industries. The work-related health strategy (Healthy Work, 2016) includes awareness that achieving better health outcomes occurs via good design.
Current situation - October 2019
WorkSafe New Zealand recently published revised burden of harm estimates for work-related health. Using annual work-related disability-adjusted life years (DALYs) lost, the calculations show that musculoskeletal harm accounts for 27% of the burden of harm, mental health harm 17%, cancers 16% and respiratory harm 14%. (Image and information from https://worksafe.govt.nz/topic-and-industry/work-related-health/work-related-health-estimates-and-burden-of-harm/).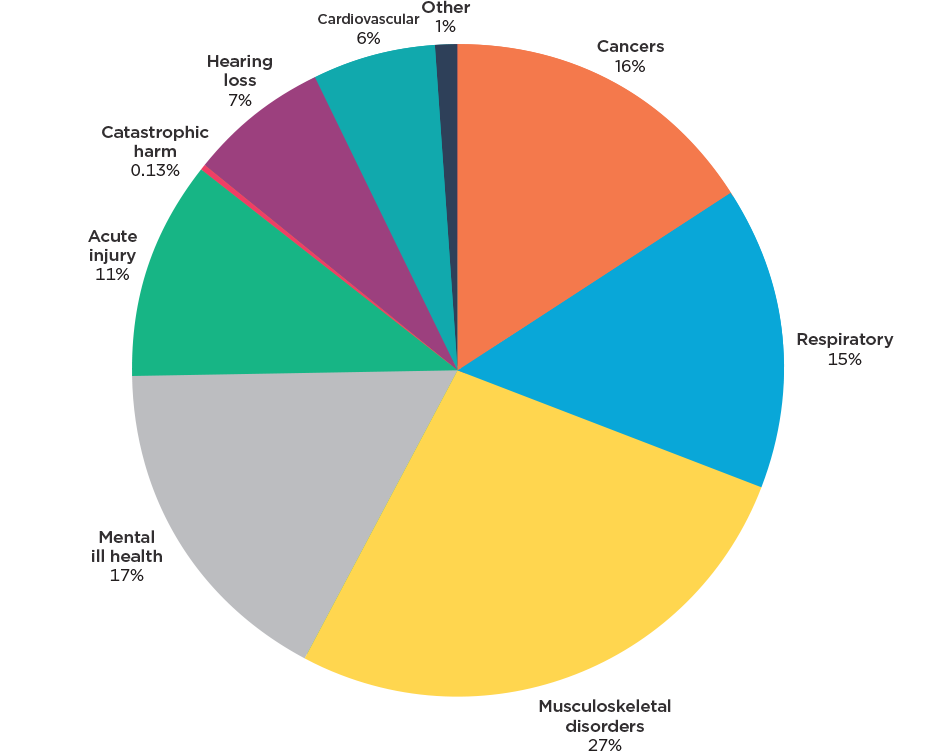 burden of harm and work-related health illness pie graph">
This new data places musculoskeletal health firmly at the forefront of health and safety action, and flags that WorkSafe will be working to develop a revised work-related health programme targeting musculoskeletal health.
HFESNZ believes that it will be important to provide a forum for ergonomists/human factors professionals to develop and extend their expertise in musculoskeletal assessment and interventions for New Zealand businesses. The formation of an interest group is intended to provide professional support, stimulate learning and development, and facilitate consultation with relevant agencies.